I've been using Days Bear Bait for 4 years now. I've taken 2 Pope & Young Bears, we have killed numerous large bears including one 415 lbs. My 11 year old daughter killed her first bear as well.

The bears really like the bait and I cannot wait to use the new 20 lb plastic bags. It should really save some time baiting.

I have photo's of 3 bears that should go over 400 lbs this year. Hopefully in a couple months I can share there photo's.

Thanks Bob! Keep up the good work.

Peter M. Brown - Extreme Dimension Wildlife Calls
It is getting harder every year to find good bear bait, not to mention the time factor in chasing it down, loading it on my pick-up, taking it home, unloading it, then putting it in smaller buckets to take to the bait sight. I thought I would give Bob's (Days Bear Bait) GRANOLA a try. I bought a few 25lbs bags to try. That part was great no muss no fuss. Two weeks before opening day I put out my call bait an a 1/2 bag of Bob's GRANOLA.In three days I had a hit. I put out my night camera, and in a week I had five different bears feeding. The second night of the season I shot a bear that dressed out at 300lbs. Thanks Bob for making bear baiting fun again!
Yours Truly,
Brad Wambolt - Master Maine Guide.
We have been using Days Bear Bait, since Bob and his sons first started selling bait to the public. I continue to use their products every year. I can always count on them to have just what I need for my bear-baiting season, and they have never let me down!

I live in Southern Maine, but I run baits over 200 miles from my home. In Maine we can bait one month before our hunting season opens, and we typically travel four weekends to Northern Maine, up and back during the 30 days we are allowed to pre-bait, every seven days to re-bait. We used to use strictly donuts for baiting before Day's Bear Bait acquired ample supplies of "Sweet" granola. Although donuts worked quite well for many years, we find that leaving the same size 55 gallon barrel filled with granola, accomplished two things for us one is the bear will stay close to the bait site for several days even if larger bear or many bear at a bait site eat up all the bait before we returned to add more bait. And two. We are able to save one complete trip north (over 400 miles) to bait each season, by only re-baiting 3 times in 4 weeks, instead of 4 trips north. This alone saves us two days of time, 400 miles of driving and a bundle on our wallets from the high prices of gas these days!

With the new addition of pre bagged granola saving us more time and labor in handling the bait, we are really looking forward to a lot more time this fall to scout our deer hunting spots, instead of shoveling granola into buckets in the heat of late July sun! This is the best idea Bob and the boys have had yet... but word has it; it was the boys' idea. Maybe that's why it's such a great family run business!


Steve Beckwith - MaineHunters.com
I have been bear hunting for many years and collecting bait pre season has always been a pain. Now that someone (Daysbearbait.com) has it readily available it has made bear hunting much easier. I no longer have to hunt down my bait. And this granola works great.

If you bear hunt and collect your bait as I did I, for several months, every 2 or 3 days at local bakeries and donut shops until I had enough barrels to bait my sites. This took my time and not to mention a lot of gas money and labor. Now all I have to do is buy it from Day's Bear Bait, all at one time and I'm done! So try it for yourself and see how much time you will save for other things in life, like hunting for your dinner... not your bait!

Dennis Theriault - DennisTheriaultTaxidermy.com
2009 will be my second season baiting bear using Day's Bear Bait. Bob Day and his sons provide the highest quality bear bait in the state of Maine...PERIOD!
In the past I have used lower quality bait with marginal success. Once I switched to the high quality Day's bait the difference was undeniable! In the week I began using Day's granola bait the number of bear visits to my bait site increased by nearly 20%. Some of the larger bears were visiting my bait twice in a 24 hour period! The best part of it all was that I could use LESS bait to attract MORE bear. That means more bear for less buck!

As a professional field tester for "The Worlds Foremost Outfitter" I know the difference between a high quality and a low quality product. In my opinion, you just can't do any better than buying your bait from Day's Bear Bait!

Ben Dodge - Hammond, Maine
I bought some bait from you Saturday and can't wait to start using it. I've used your bait last year and trapped a huge male black bear weighting 483 lbs. I've got another large one coming in again this year and I'm looking foward to the season. I'm sending you a few pictures to post on your web site if you wish. I'll keep in touch to let you know how the season is going.


Good hunting,
Ron

Your garnola does the trick boys! Got them in fast and kept them close! They just couldn't get enough of it! That bag you gave us sure made the job alot easier! Next year thats the way to go! Thanks boys!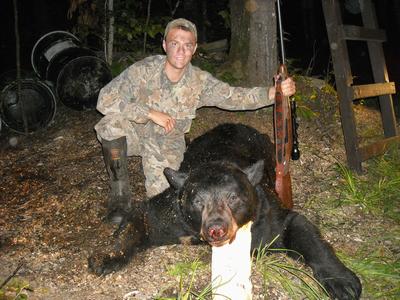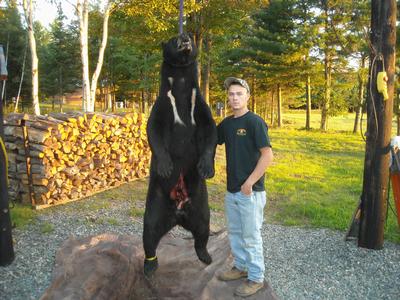 Craig Binette, age 21 Saco Maine
461 lb. Boar (two white stripes)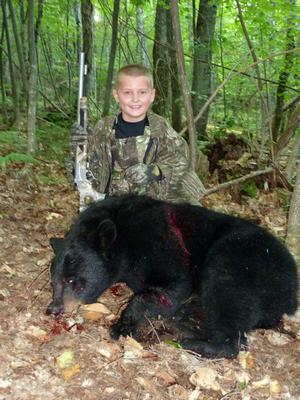 Your bait worked for my 10 yr old son, Wyatt.

Thanks.

Stephen G. Foster
I could not have asked for a better season. I had nearly 500 pictures of bears coming to my bait ( granola and molasses) throughout the season. I put together a video on youtube of some of my favorite pics and videos.. click on the blue link below....enjoy

Thanks again and I will be seeing you next year for more bait.

Frank Harris
NH Guide, Plymouth, NH


http://www.youtube.com/watch?v=mOX-RF5R60M